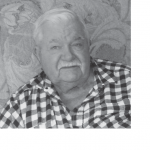 Gord McIntyre
Gord is a unique blend of Renaissance man and skilled outdoorsman. We use "unique blend" advisedly, as he is without any mechanical skills and his shotgunning remains mediocre.
Married to Michelle since 1955 and father of three achieving daughters, he is a retired secondary school teacher and history department head. He was owner of an internationally respected dog breeding kennel; he was a hunter, fisherman, wilderness camper, expert rifleman … His naval and army experience qualified him for the Canadian Forces Decoration for long-time military service.
In 1992, he received the Canada 125 medal from the Governor General for his environmental interests and concerns. He was also the recipient of the highest award granted by the Islington Sportsmen's Club. Then, too, there were a number of other writing awards.
Gord is a member of the Outdoor Writers of Canada; member of the Ontario Federation of Anglers and Hunters since 1958; a long-time member of Ontario Nature (formerly the Federation of Ontario Naturalists); and a staunch supporter of CPAWS (Canadian Parks and Wilderness Society).
Although a writer of many outdoors articles for a number of publications over the years, this is his first attempt at writing a book.
Author Title:
Remembering Richly The Rewarding Outdoors
|